After "Happily Ever After"—My Dream Came True! (now what?)
aka apparently I'm the only queer person on the entire planet who was not familiar with Chuck Tingle. And yet, here we are.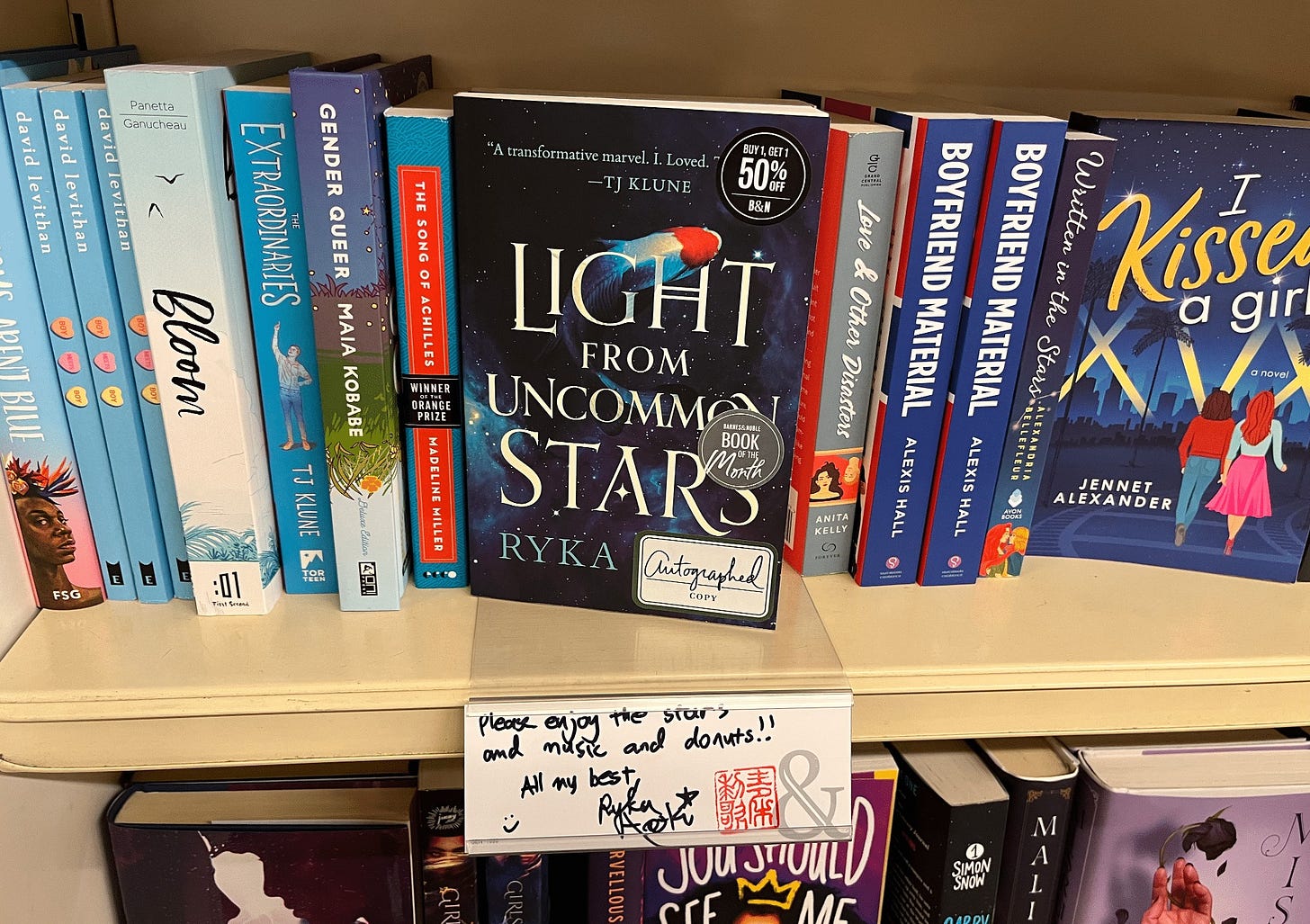 Hi Folks!
He's a very nice guy—genuine, soft spoken, super smart, a little bashful (which was unexpected given his popularity and reputation).
Chuck Tingle, that is.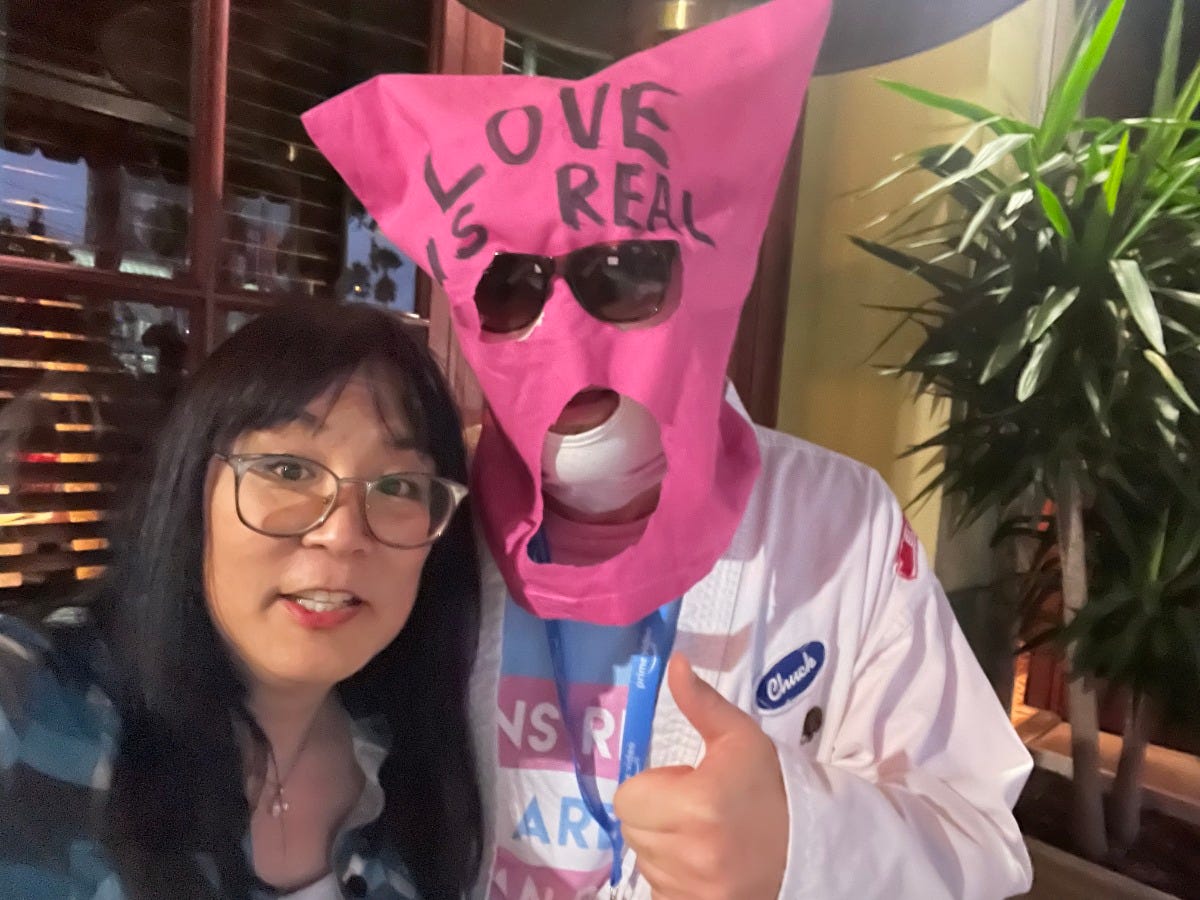 Me and the wonderful Chuck Tingle having a great trot at SDCC 2022!
It's coming up on a year since Light From Uncommon Stars was released, and it has been a whirlwind—rewarding, surreal, sometimes exhausting, but always magical.
As dreams often are.
---
Over the past 12 months, I released my first novel from a major press, which got a bunch of recognition, became a national bestseller, and gained the best readers ever.
I met SF/F royalty—most, if not all, of whom were delightful. And some have even become friends—people like John Scalzi, TJ Klune, Jenn Lyons, Charlie Jane Anders, and Nghi Vo.
I am so grateful and blown away that Light From Uncommon Stars—a book that is so queer, so Asian, so San Gabriel Valley—has made it onto so many bookshelves (as well as car stereos—because Cindy Kay did such a spectacular job with the audio book.)
So many thanks to my brilliant agent Meredith Kaffel Simonoff and editor Lindsey Hall. To Caro Perny and Renata Sweeney and Jocelyn Bright and the rest of Team Space Koi.
Over the past 12 months, I have done readings and panels and discussions and signings virtually, in bookstores, at conventions—even on a boat. In the Bahamas.
Last month Light From Uncommon Stars was a Barnes and Noble Pick of the Month—and last week I attended my first Worldcon as a Hugo Finalist.
The other authors were Andy Weir, Becky Chambers, Shelley Parker Chan, Arkady Martine (who ultimately won), and P. Djeli Clark.
Seriously?
Wow...
It has all been a dream come true.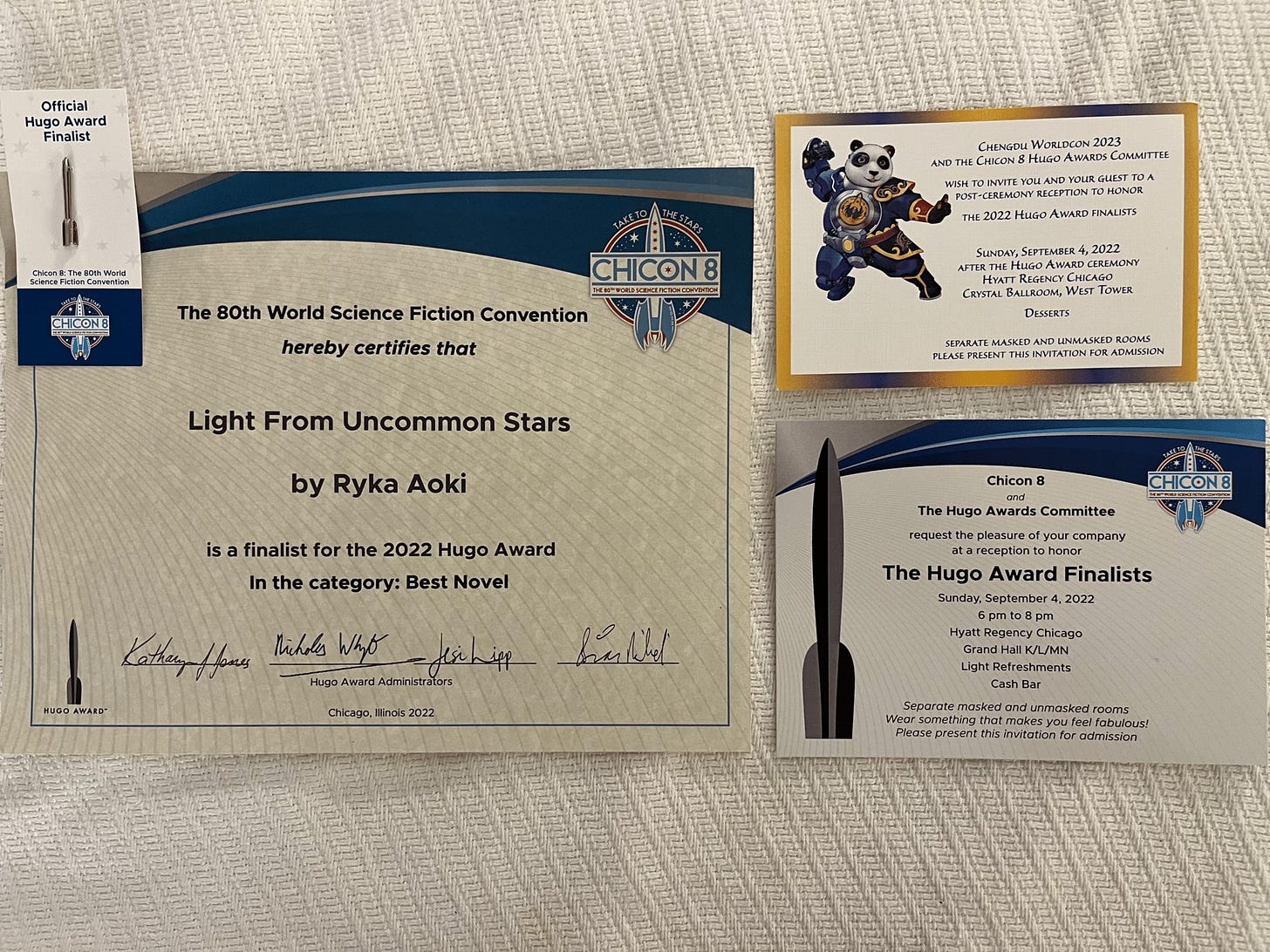 When I told him I had placed second in the Hugo voting, David-freaking-Gerrold told me that was wonderful, that I should be very encouraged, after all, he had placed second three times—to Isaac Asimov, Harlan Ellison, and Arthur C. Clarke—before he won. Super nice of him, but wow…
So, now what?
Right now, I am right in the middle of writing my next book.
Creating the second book in a contract has been a brand-new challenge—when Light From Uncommon Stars came out, not so many people had ever heard of me.
Now, I have received fan mail from readers—from all over the world—who enjoyed Light From Uncommon Stars, who say that I wrote one of their favorite books, and that they can't wait to read my next one.
And, while that is a privilege and honor—and another dream come true—that sort of trust produces its own sort of pressure.
I want to do good by them!
Another thing about delivering the second novel in a contract is that I had all the time in the world to write Light From Uncommon Stars—because no one even knew the book existed!
But now I need to deliver a manuscript—if not under a strict deadline, definitely in a timely way.
This time change has required a greater adjustment than had I expected. Although I'm writing novels, for most of my writing life, I was primarily a poet. In fact, I still consider myself a poet—and one of the first things poetry teaches you is that you conform to its schedule, not the other way around.
So, I really needed to change my mindset (thank you so much, Jenn Lyons). I still feel I write particularly slowly, but I think I am finding a way to balance speed with inspiration.
And then, there is imposter syndrome, the general anxiety and occasional bouts of panic that Light From Uncommon Stars (and He Mele A Hilo), were flukes, and that I might not be able to match my previous novels.
None of this is great for peace of mind (or the next book).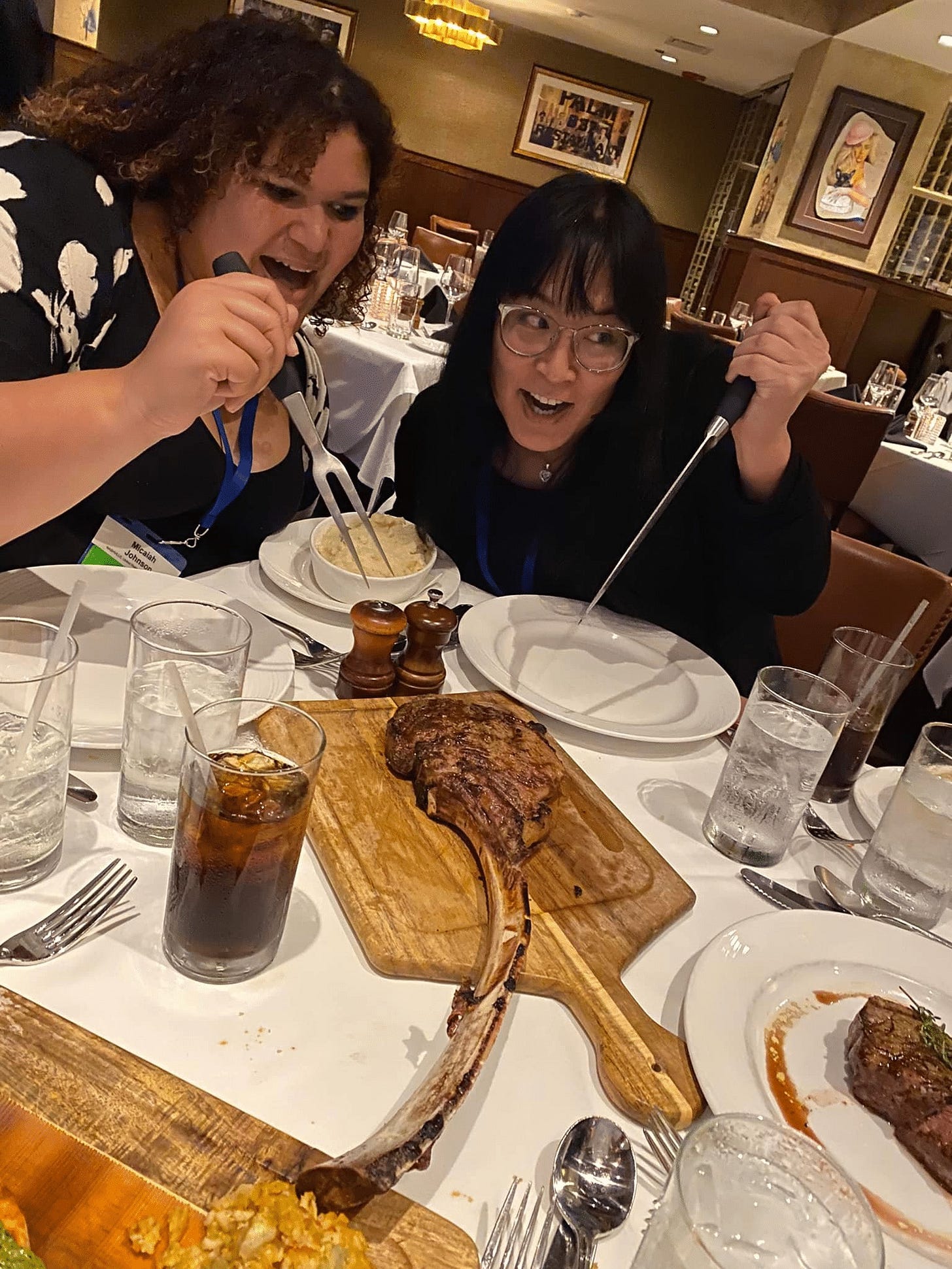 The amazing Micaiah Johnson and I confronting our insecurities. (photo by Foz Meadows (yay Foz!))
But, in speaking with other writers—most recently, folks like Paul Cornell, Foz Meadows, Micaiah Johnson—and Chuck Tingle!—I realize that I am not alone in my insecurity (thank you!!!).
Even more importantly, I realized that it would be disrespectful to disregard readers who opened up and told me how much Light From Uncommon Stars meant to them.
Because, if their connection was genuine, then…well, I guess something in me must be genuine, as well.
And so, onward.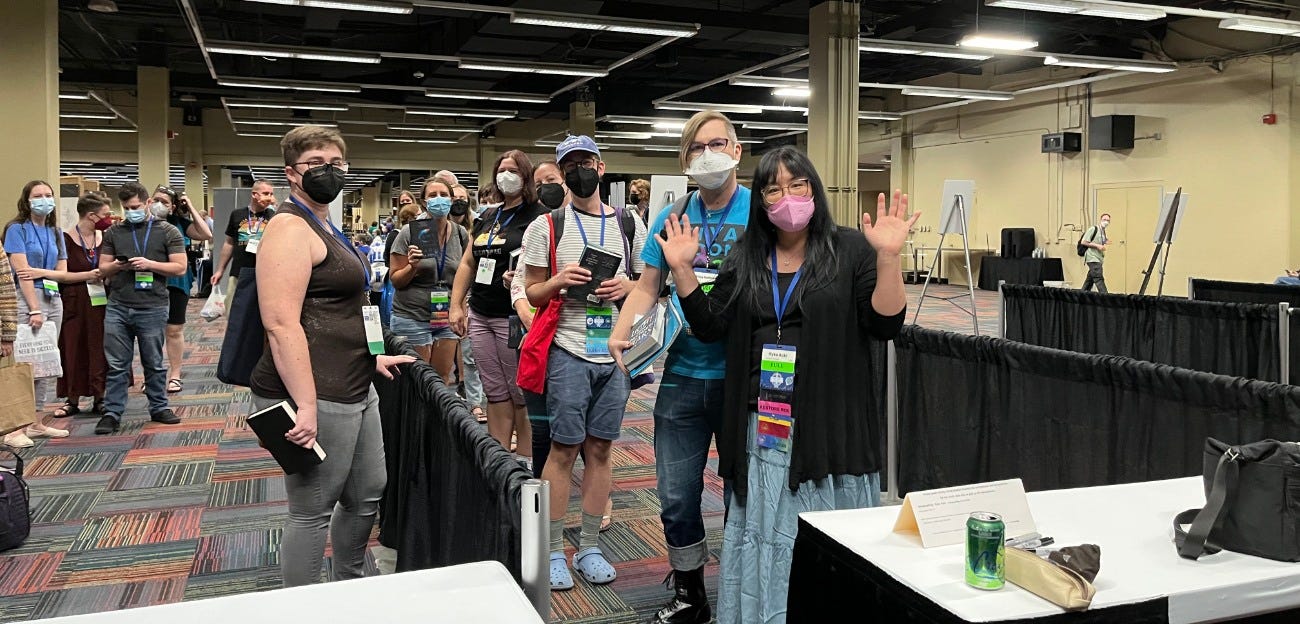 As I work on my next book, I want to create characters and stories and worlds that engage people, that give readers the both the desire and space to feel and explore perspectives they may not have entertained before. Yes, I want to address issues of humanity—of prejudice and inequity and apathy. But I also want to include remorse, forgiveness, and determination to live one's best life, anyway.
I want to create worlds where there are no side characters—where all of us are main characters, taking turns playing cameos in each others' stories—where we all weave this beautiful fabric of life.
Personally, there is my own ambition and renewed sense of freedom. Working with my editor, Lindsey Hall, is like working with a coach who knows how to push me, even when I might initially protest.
I have never had that sort of attention before—under her care, my skills have never been more expertly honed.
Now, part of me cannot wait to see where I can take readers. I want to bring my readers deeper into my universe—with new mythology and poetry, even more recipes, as well as a few surprises I can't disclose.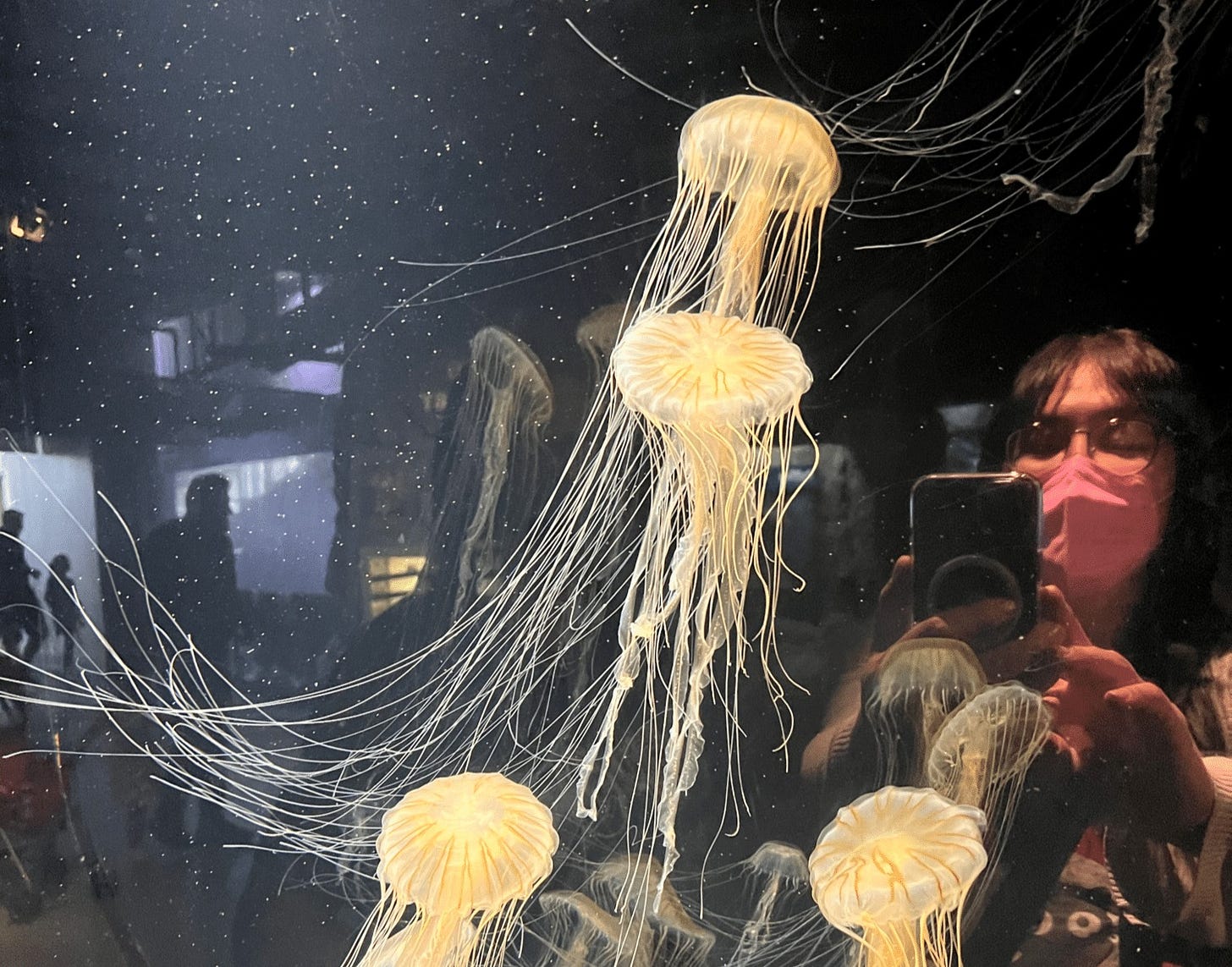 I can't share too much about my next book--but I WILL say that this is some of my research for it!
I want to do well by the legacies of queer elders who lived in queer spaces and showed us how to survive, as well as those who wrote and worked while closeted in the SF/F community. Too many of them have all gone unrecognized. I want my work to honor writers like Rachel Pollack and Sam Delany.
And most of all, I want to write my best for readers. I love reading, but I have a confession—I have fallen so far behind in my reading. I feel like such a failed reader!
And so, it is more than gratitude. Readers fill me with admiration and genuine awe. Readers who are trans people, queer people, women, people of color.
Readers who are none of the above, but who recognize and resonate and empathize and learn.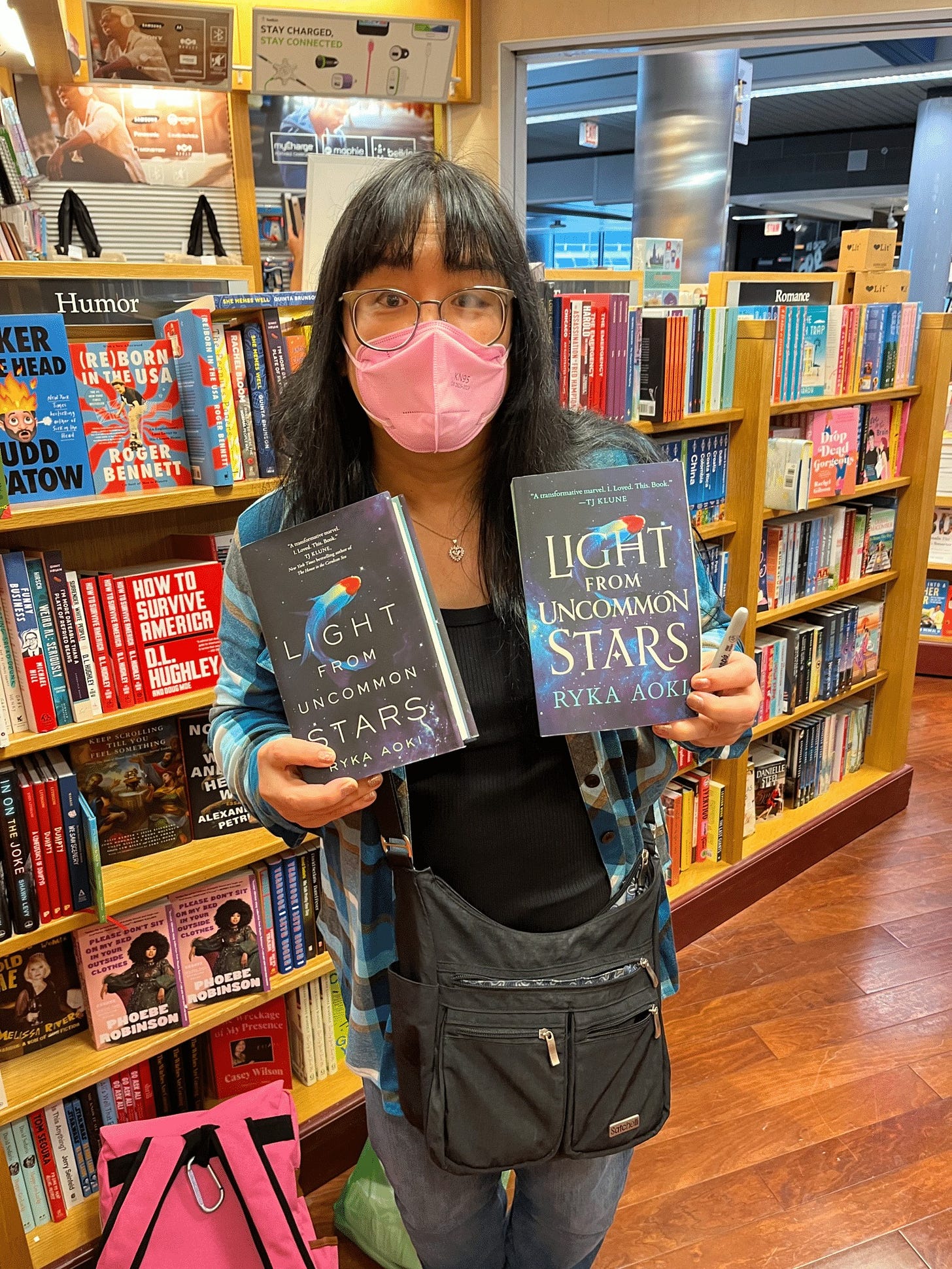 I found these at Barbara's Bookstore in O'Hare Airport! Dear readers, thank you for being the magical creatures who have brought my words all over the world.
Over the course of the year, I have met so many readers who are willing to set aside their expectations and read a book that they may not have considered, and be willing to open their hearts to it anyway.
And so, as I shift my focus from Light From Uncommon Stars to whatever comes next (one of the things I am working on is a working title)—be it happy and cozy, or sad or raw, or goofy or scientific, or all of the above—I will always write my stories with love because no matter what, I love you—as Mr. Rogers (or Chuck Tingle) might say—just the way you are.
All my best,
Ryka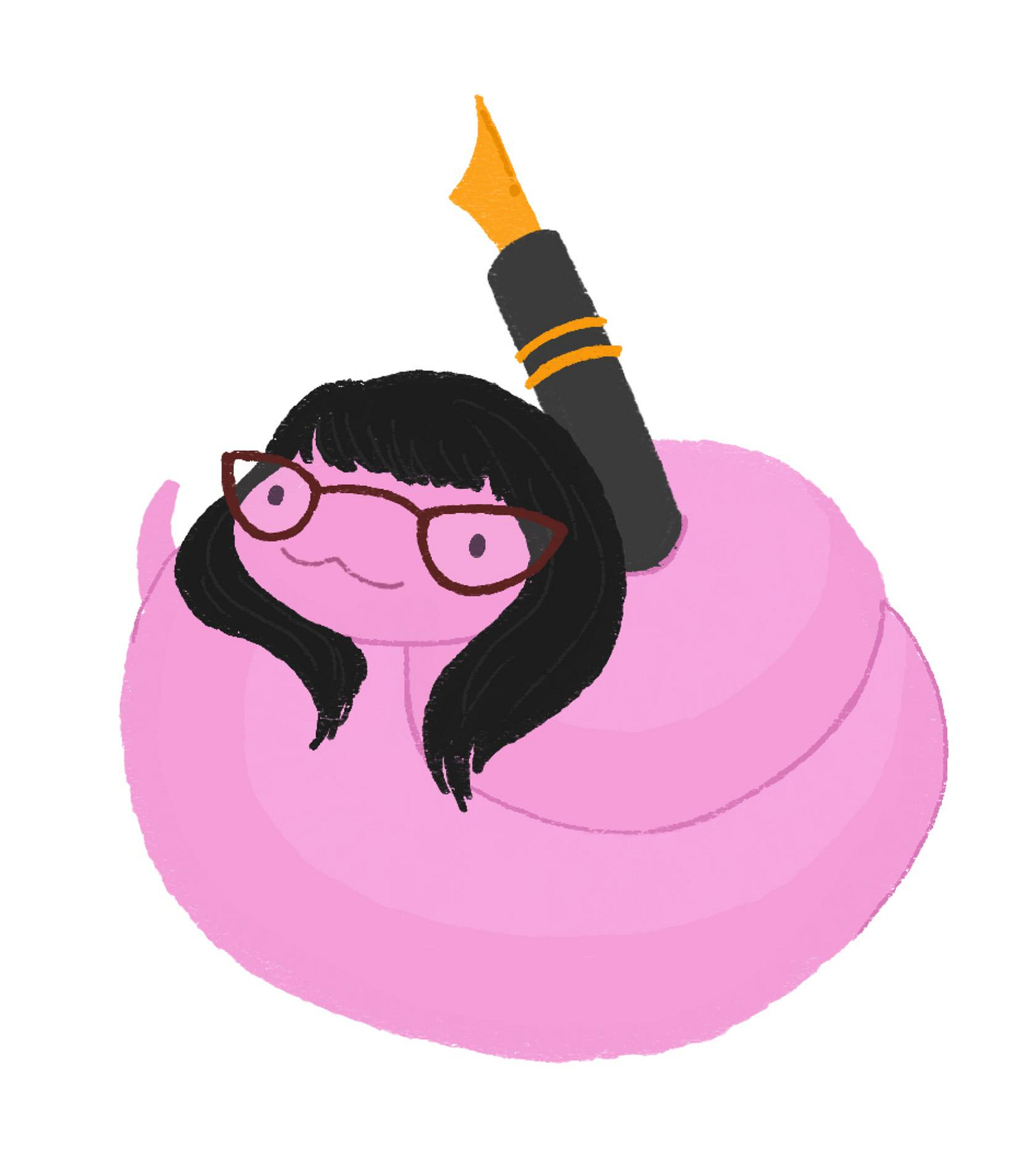 --
Next Week: The Power-Hungry Games--Is the Kardashev Scale Really All That?
All photos are my own. :)