Face Masks, Fantasy, Found Family, and Phlegm.
My Weekend of Comics and COVID, Contagions and Community at San Diego Comic Con 2022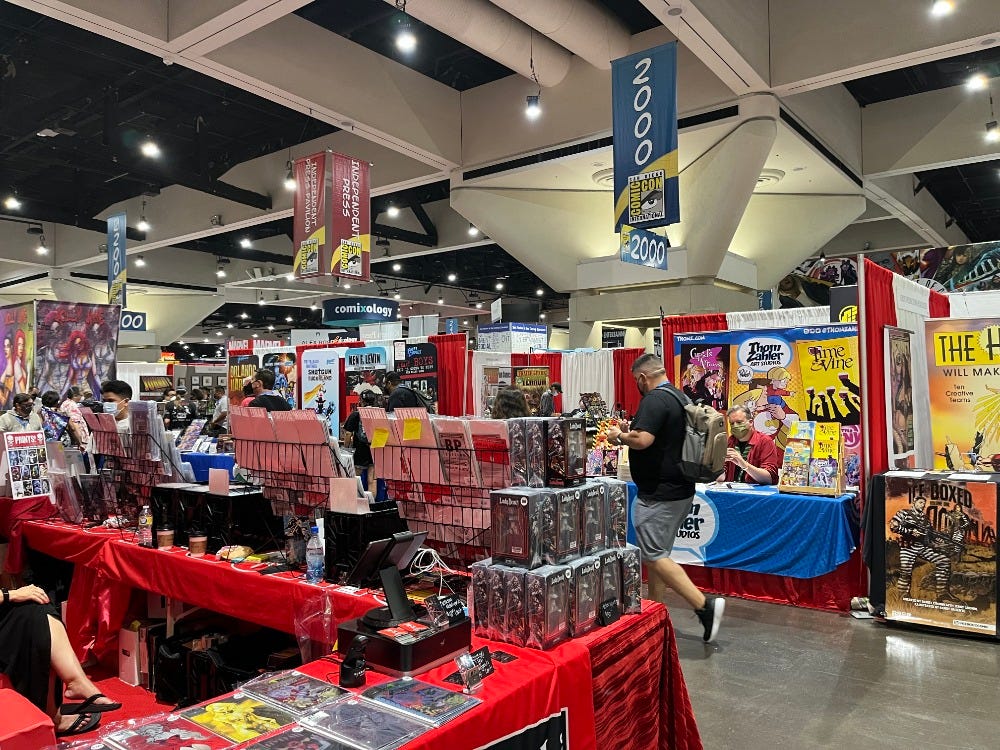 Hi Folks!
I just returned from San Diego Comic Con on Monday, and yesterday, the paperback for Light From Uncommon Stars was released!
This month has been surreal. My work has discovered new readers and I've made new friends, and I'm still not quite sure if it is ever going to stop seeming like a dream.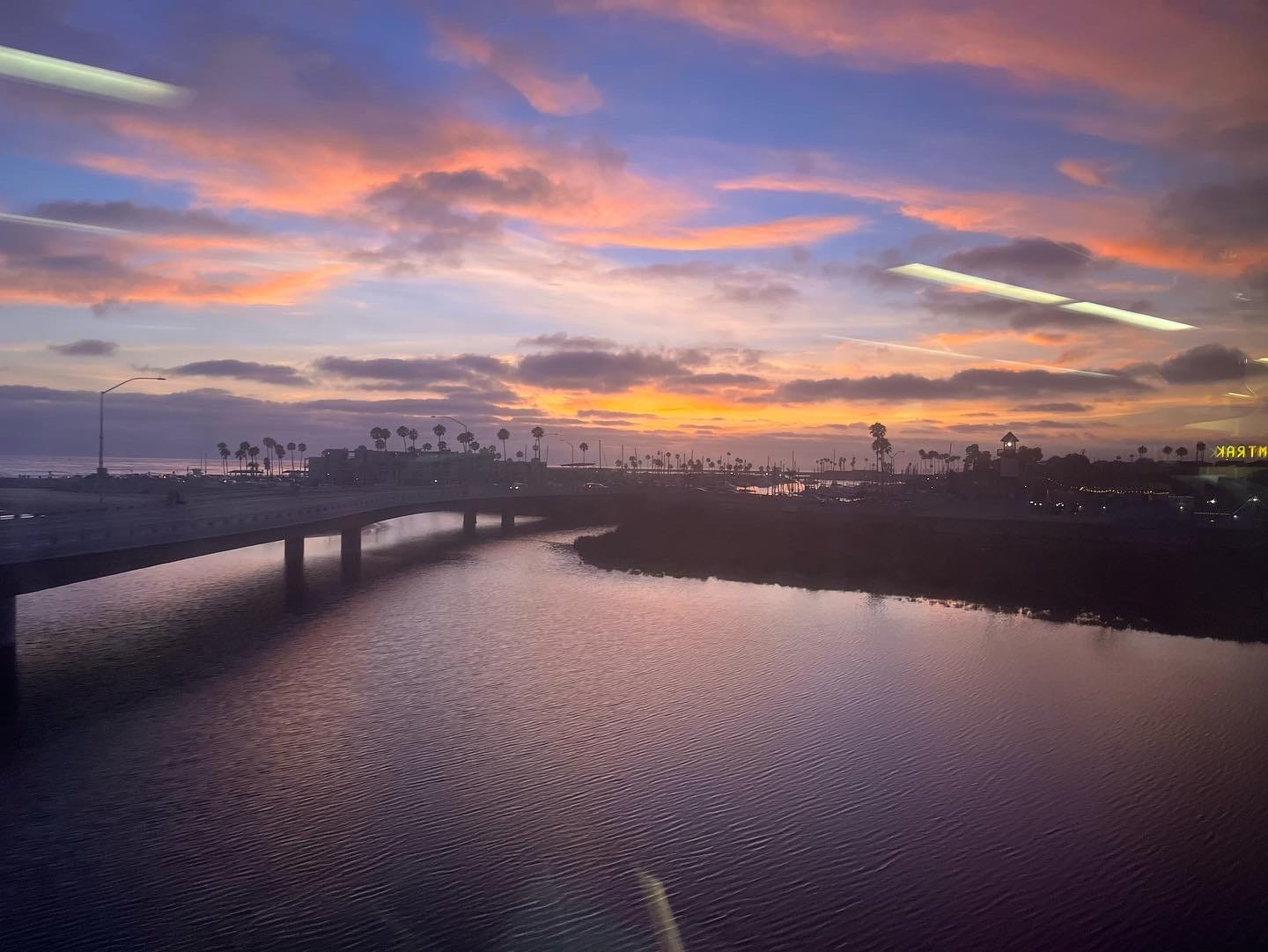 This was the view on my commute from Los Angeles to San Diego for Comic Con. Seriously. THIS was the view on my commute from Los Angeles to San Diego for Comic Con.*
I really wouldn't mind if that feeling never went away.
However, the time up to San Diego Comic Con was a little bit worrisome. Two weeks before, I had gone out to dinner with some friends, and came down with COVID.
I was afraid. Even though I am vaccinated and boosted, COVID is still, well, COVID. I had body aches and chills. Those weren't so bad, because I knew in the back of my head that being vaccinated and boosted, there was a good chance the symptoms would not become horrible.
Luckily, they weren't. However, one of the freakier things was losing my sense of smell. We've all had those times where we've been stuffed up and couldn't really smell. But the weird thing about COVID was I wasn't stuffed up.
I could breathe easily, and I could distinguish cool air and warm, but no smells. In fact, my refrigerator smelled fresh. And that's kind of when I knew something was wrong. I keep pickled cabbage and radish and all sorts of Asian type things in there, after all. It is very weird to open up a bottle of kimchi and smell fresh air.
I think if COVID had taken away our senses of hearing or sight, or even our equilibrium, there would have been a lot more made out of this particular symptom. But smell, that's one of those senses that you don't really think about, you think, well so your food is going to taste bland, and you might lose your appetite for a while, but at least it's not life-threatening.
For me though, I love food, and I love to write about food. The thought of losing sense of smell gave me a low-grade panic, even though I knew my smell would probably return. I spent a couple nights lying in bed coughing and generally achy, but mostly trying to think of all the tastes and smells that I loved in life and in food and in gardens and on the beach. I thought about the first time I smelled cherry blossoms in Japan. I thought about sunscreen and pepperoni pizza on a summer afternoon at Venice beach.
I thought about old smells, like the sweet and acrid aroma of burning sugar cane fields, back when Hawaii was full of plantations and it was harvest time. I smelled different sorts of tea, fresh and saltwater fishing, heck, I even thought of the smell of the old bathrooms at Dodger Stadium.
And in my somewhat delirious state, I wondered if I would ever smell any of these things again.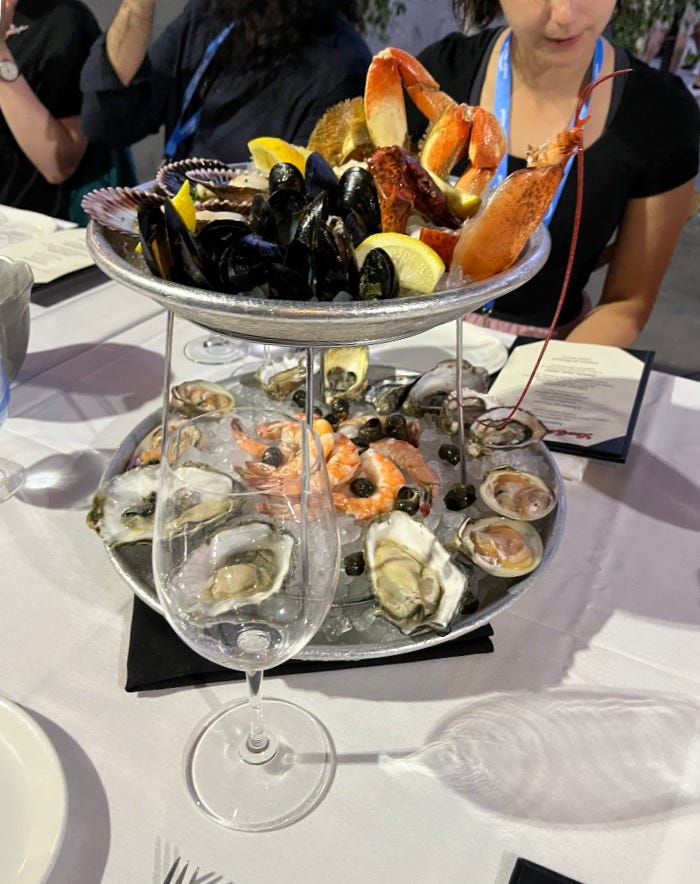 Tor/Macmillan took the authors out for an amazing dinner. Thank you so much, and gosh, I am so grateful I had my senses of smell and taste back.
One of the more practical worries I had while recovering was that I couldn't smell whether leftovers had spoiled or were still OK to eat. I had leftovers of things like fish soup, and I would smell them, and not a darn thing. So I had to throw out a lot of food. I ended up living on ramen from packages because I knew they wouldn't go bad. Plus, they were easy, and I wasn't really feeling like chopping vegetables every day and cooking. Sickness is one of those times where you want a big vat of something you can just heat and eat.
But I couldn't trust my own nose.
One day, my sense of smell slightly returned, and over the next few days, it came back, not all at once, and sometimes it felt like nothing had changed, but eventually it sort of came back.
I knew that I was going to be OK when I could smell rice cooking again.
As far as everything else went, I was still feeling weak, and I was coughing, but I was growing more lucid and a few days before the start of San Diego Comic Con, I tested negative for COVID. And two days later, I tested negative once again.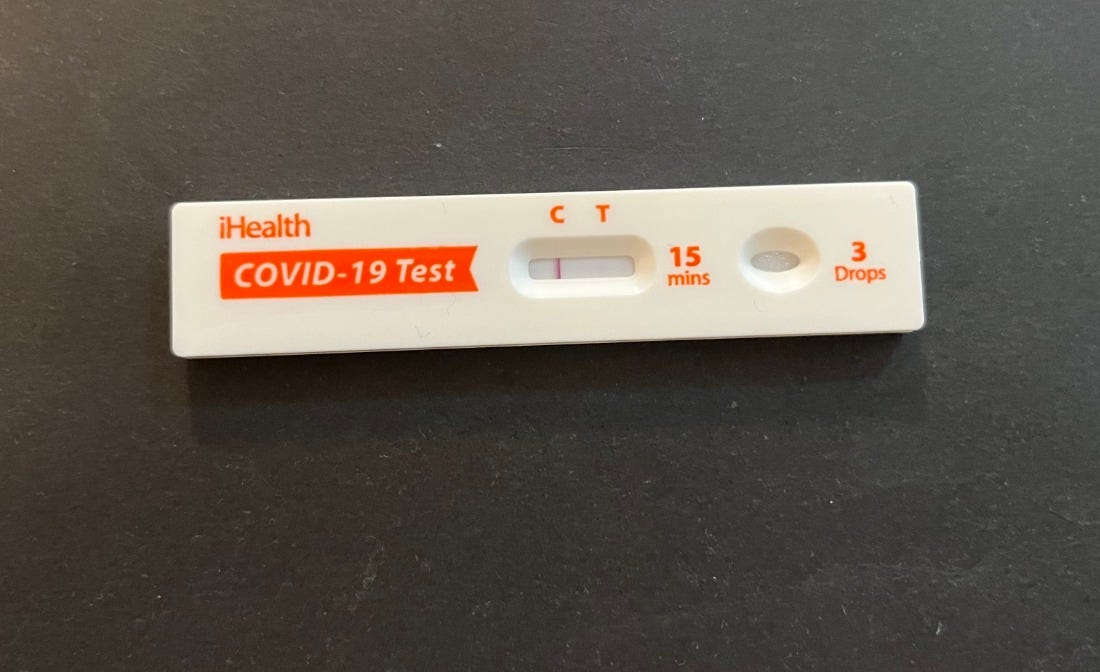 This made me jump for joy!
If I had still tested positive, I would have had to stay home, but the dates worked out just right.
Yes, I was still a little bit weak, and not all the symptoms went away. The cough in particular was persistent, and phlegm (and phlegm and phlegm) and I thought that I would lose my voice, but I read that was part of the process. But as I got ready for Comic Con—got ready for the Pacific Surfliner train and the panels and the booths and the signings and all of the excitement that I knew was going to be there—there was a strange sense of weird peace, almost relief. Because I had just had COVID, I knew that I was negative and that let me freely interact with readers and other authors and vendors with no worries of getting them sick.
And, because I had just had COVID, if there was any time my immune system was ready for San Diego Comic Con, it was that weekend. (And yes, I'm still testing negative.)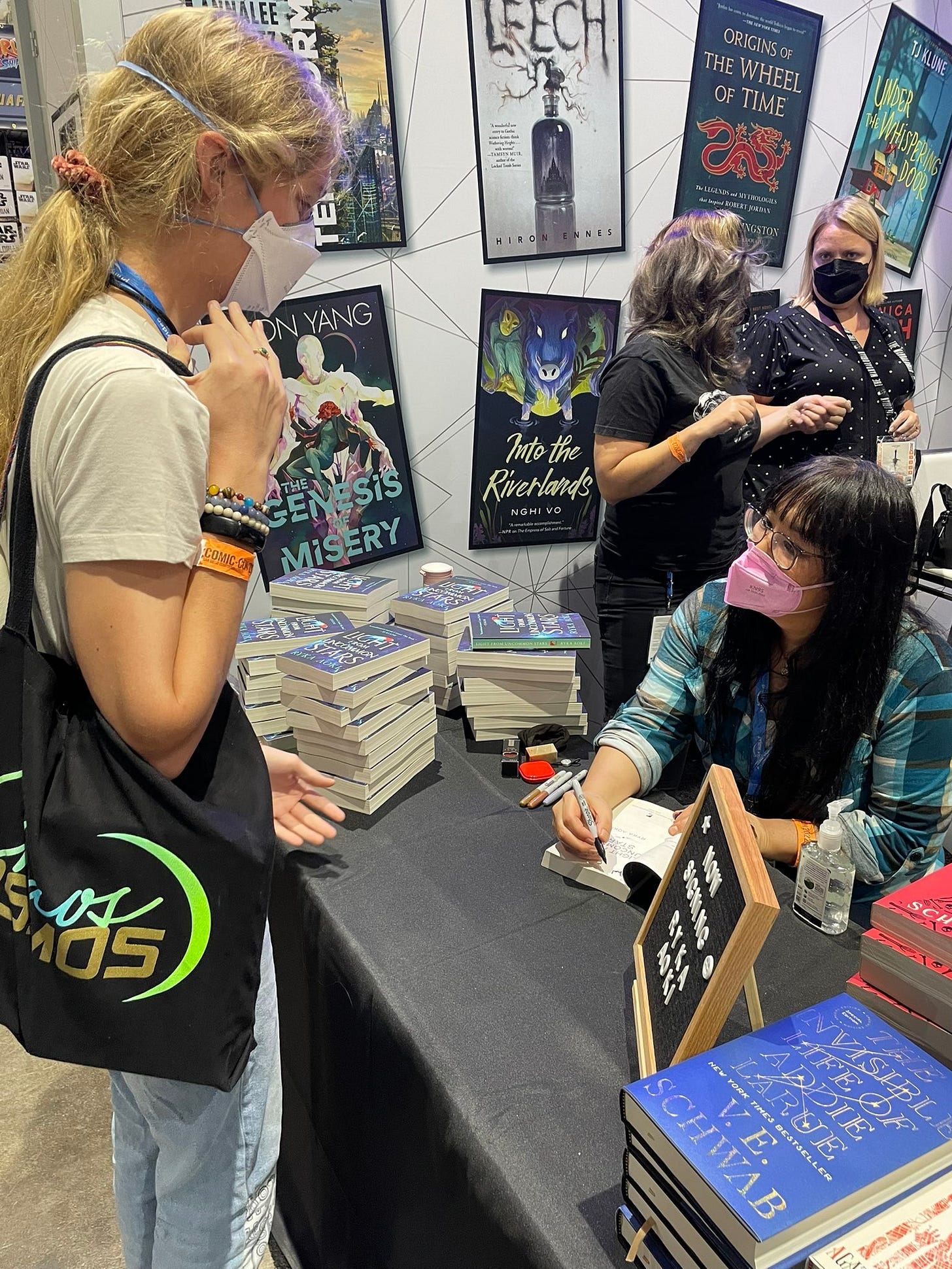 Thank you so much to everyone who visited me and all the other authors at Tor Books. SO much love and gratitude to you. May you get all the music and donuts!!! ✨🎻🍩💖🚀
I met so many talented and cool people--all with orange COVID wristbands!
I saw and learned so much, and I left feeling both invigorated and inspired. The thing about San Diego Comic Con that really struck me was how nice everybody was. This was my first San Diego Comic Con. except for some security and the police in the gaslight district, I didn't hear any aggression or rudeness. And even more amazing, I didn't see any garbage or cans or cups or other detritus on the ground.
Seriously, it was like being in Japan, except everyone was taller and I could understand them even if they were speaking quickly.
There was some beautiful cosplay (see if you can find the cosplayers with the orange COVID wristbands). But there was also some very casual cosplay and almost cosplay and even some inexplicable cosplay. And it was all good. It really was. There were people from all shapes and sizes and so many queers that I felt downright unimaginative.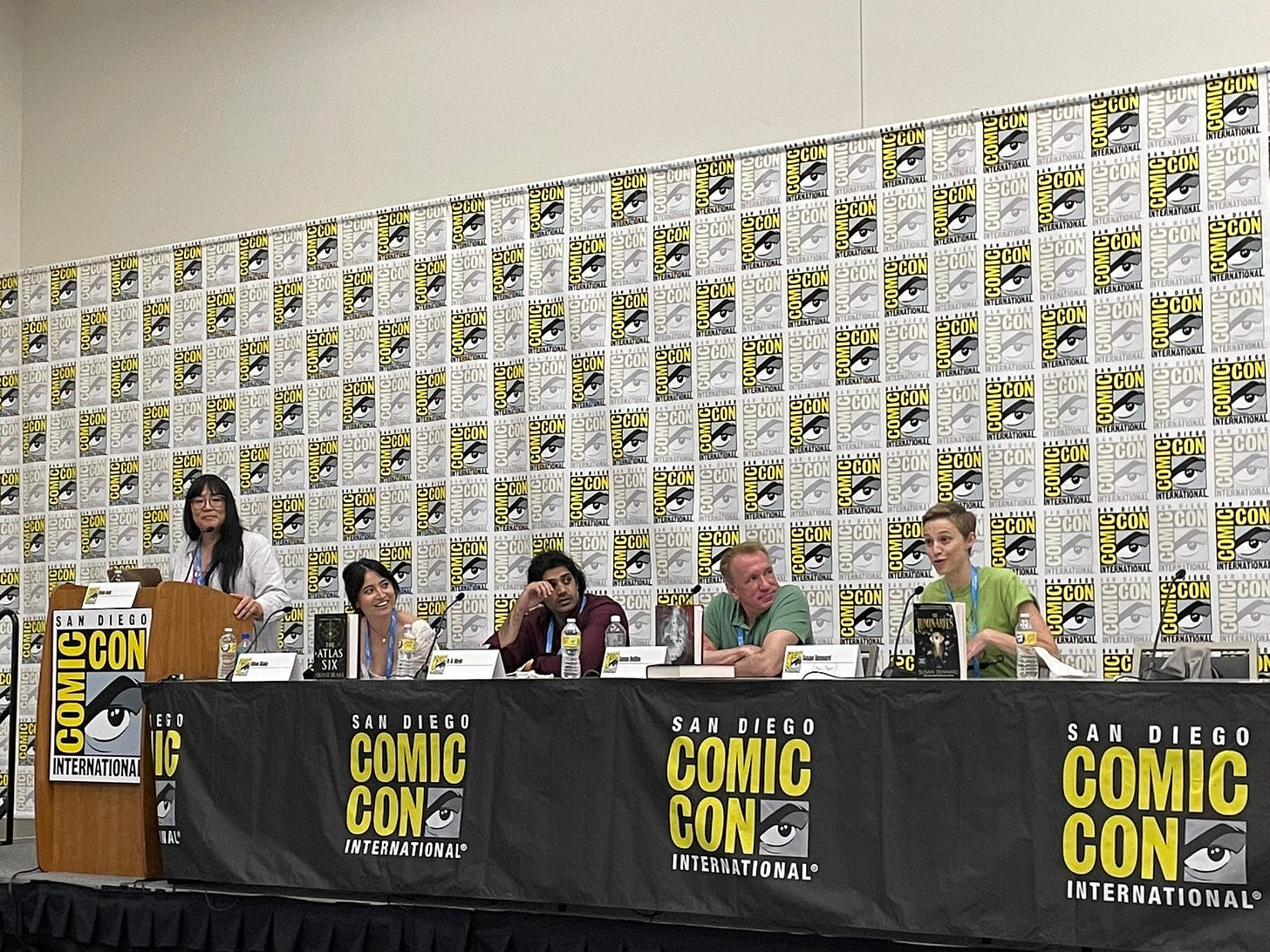 OMG! What a fun panel! Here, I am making Olivie Blake, RR Virdi, James Rollins, and Susan Dennard talk about crimes! :) My voice was almost gone that morning, but luckily it came back!
And I got to talk with some brilliant writers. As a writer, sometimes you feel crazy, and most often the rest of the world is inclined to agree. But talking to other writers, at least for that time, I felt I was with people who understood me. Who understood the "who the f-ck am I to be here?" and the pressure of working on the book that follows the one so many people love. How to deal with success and find yourself being as R.R. Virdi put it, a "4th-Rate Rockstar" (albeit with first-rate fans).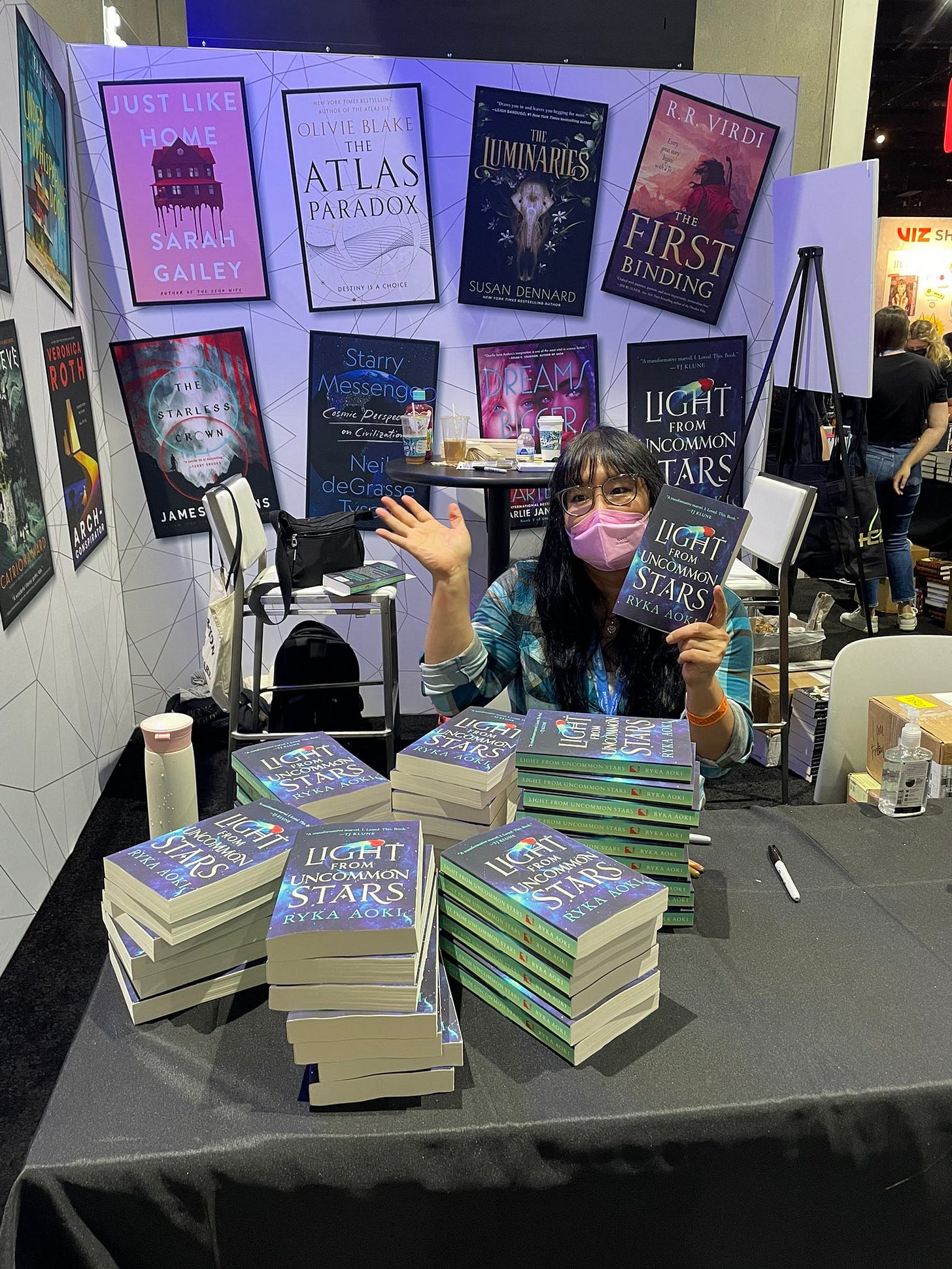 Note the orange wristband! Beneath the mask, I am smiling like nobody's business! THANK YOU!
It would be tempting to write my experience off as not quite representative because I did come in as a professional, and as a writer. But I am not so sure. Sure, I found some of my found family and community--but so did a LOT of people. I think it was a space where so many people who usually live outside community or without community found many other people who would point at their T-shirt or stay "you look amazing," or laugh at some clever inside joke that only true fans would appreciate.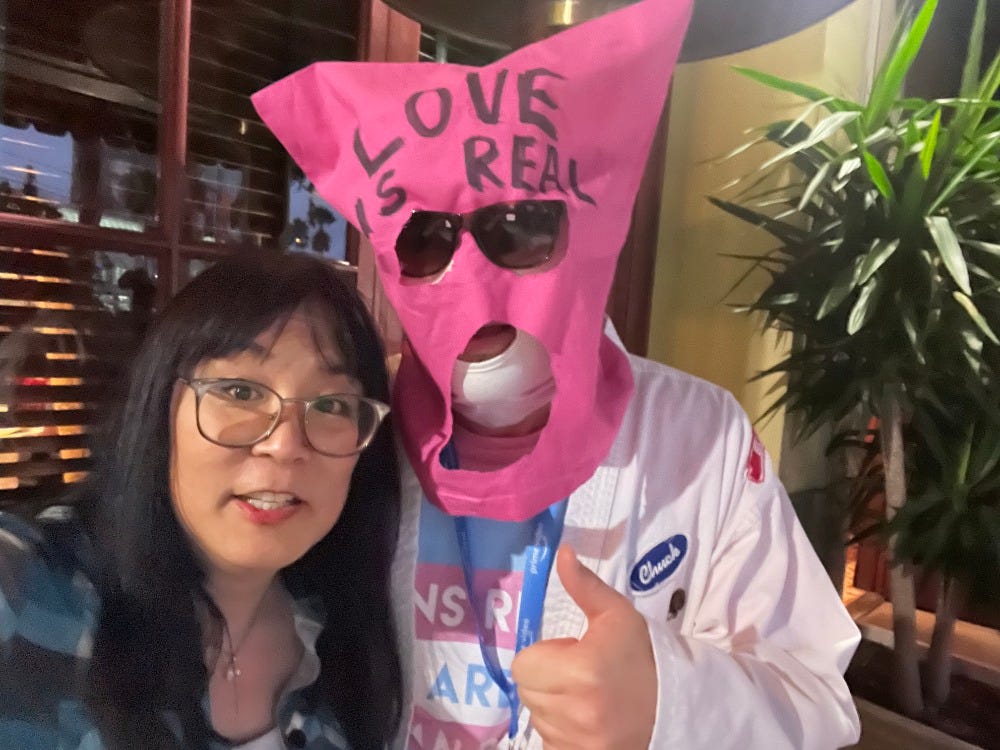 Me and the incredible Dr. Chuck Tingle. And yes, Love Is Real.
For most of my time during this pandemic, I have been isolating myself quite thoroughly. I have had groceries delivered and entire weeks go by without me opening the front door. I have a sick mother that I am caring for, and when she was in the intensive care unit and in grave condition, I had to be ready to see her at any time.
And I remember not understanding why people would go out. And I still wonder why people aren't vaccinated, or why people don't wear masks when asked.
But, in going to a place like San Diego Comic Con, I realized one thing, how important it is that we have community. How much I missed saying thank you to somebody face-to-face for doing something incredible like buying my book and saying they enjoyed it. To see people discussing things that weren't about a disease that was about to kill them, or a war that was going to happen, or their rights being taken away.
Yes, these are all vital and important, but life is more than going from crisis to crisis…doom-scrolling alone in your isolated apartment.
I think what I saw most of all were so many people who were tired. Good responsible people who, just for a weekend, got to be a little less responsible.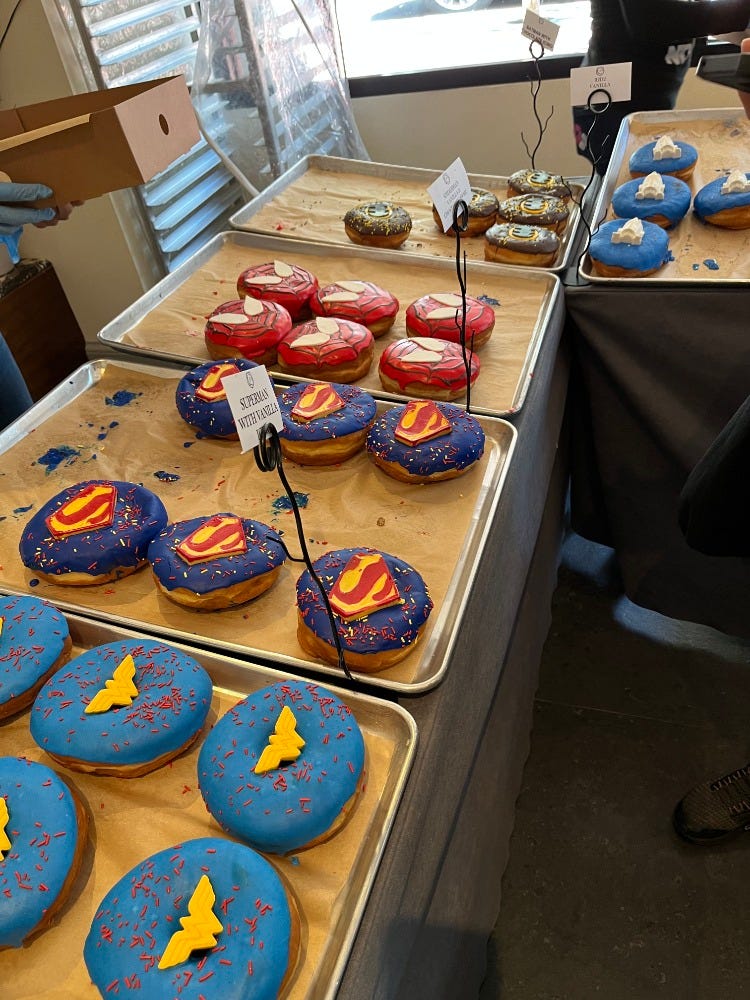 With great power comes great donuts!!!!
I have no idea what the COVID numbers are from people returning from San Diego Comic Con will be. And in the past, I might have questioned the judgement of anybody would have exposed themselves to this COVID virus in the first place.
However, I think I understand a little bit more now—not why anyone would ignore or deny COVID, but why they might weigh the harm of contracting COVID against the harm of continued isolation and loneliness.
And when I run into people who have gone out to a festival like this one and come back with COVID, I think I'm going to be a lot more understanding as to why.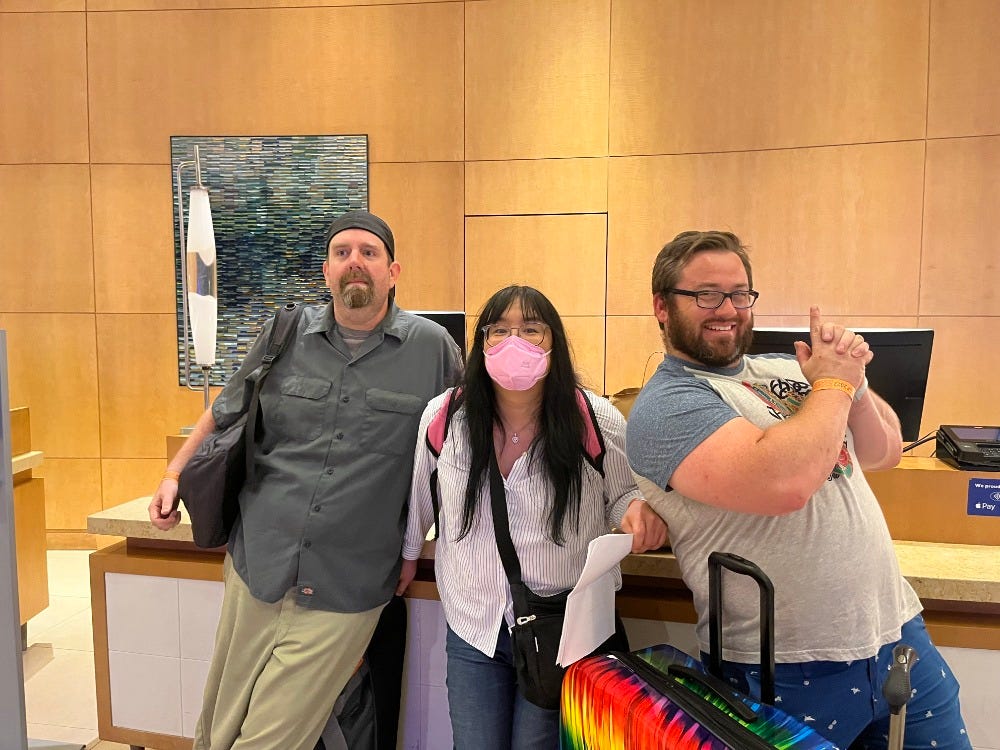 These photos are out of order, but I wanted to end with what I thought best encapsulated SDCC2022. When I arrived at the train station, I was totally confused. But friendly bear @joepharris and his equally friendly anime expert friend Matt helped me get my Covid wristband then walked me to the hotel. It was magical. Thank you, Matt and Joe!!!
Thanks, everyone for an unforgettable San Diego Comic Con. I hope you all had so much fun and magic! Please take care. And if you are sick with COVID, may you get well soon.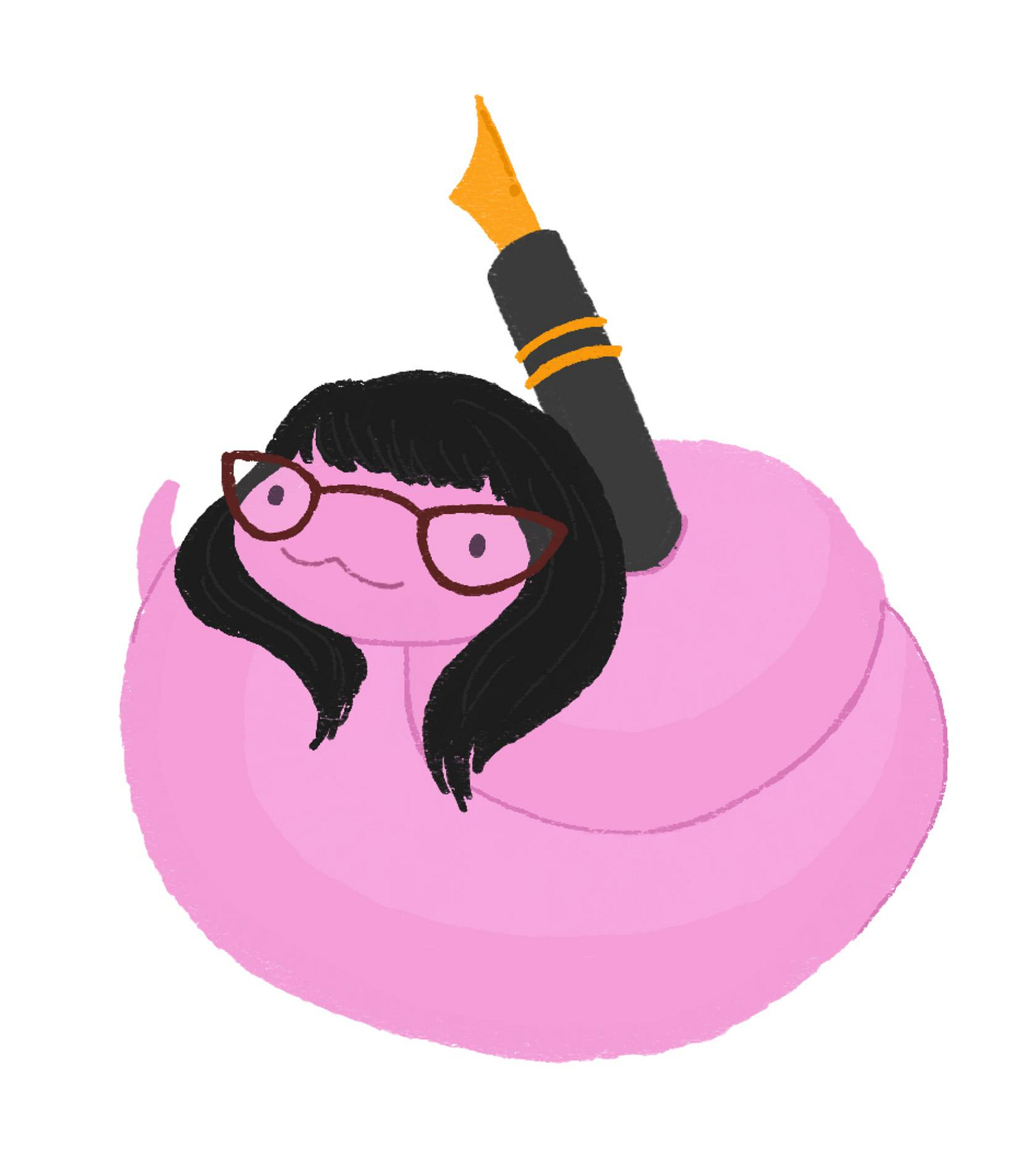 Please subscribe? I'd really appreciate it!!
--
Next Week: Nancy The Dreadnaught returns.
*Cover and all images either my own or courtesy of Tor Books.