Discover more from Ryka's Most Excellent World :)
Whenever you are dancing, someone else is dancing, too.
Over 1,000 subscribers
Live Long and Fire: AK-15s, Dr. Spock, and Why Your Phaser Doesn't have a Detachable Clip
a.k.a How world building and Star Trek can help us avoid cringey continuity errors on other worlds, where everyone seems to own a gun.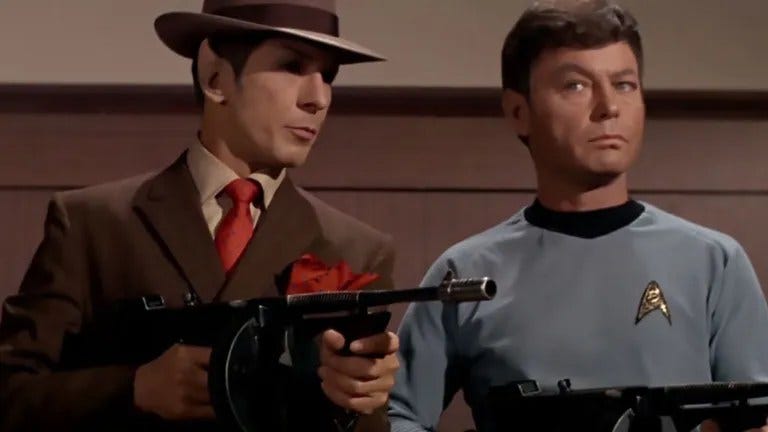 Hi Folks!
This was a little late--and you might have noticed there were even a few more typos than usual. I am so sorry about both!
It was an unexpectedly rushed weekend--my parents' Internet went out, and I was trying to help them resolve the issue.
Thank you so much for understanding!
Ryka
--
From time to time, I hear someone who has no experience with guns talk about guns in a way that not only reveals they have no experience with guns, but that they have no interest in learning about guns.
Which is fine if one doesn't care about guns. But many of these people also have opinions about guns. And they want to discuss them with people who do care about guns.
And that's where things can get super cringey. Because when people who don't care about what they're talking about talk to people who do, they can end up sounding pretty careless, even stupid.
Throw around a term like "assault rifle," or call a magazine a "clip," and the discussion is over before it even gets started.
As a writer, science fiction fan, and Star Trek fan, I think of it like this:
Imagine that you are a studio PR person charged with announcing a new Star Trek series to a room full of enthusiastic, but somewhat skeptical, Star Trek fans. You aren't really into this Jedi lightsaber stuff, but a job is a job, so you stand in front of them, and in your best fake enthusiastic PR voice shout "Hi Trekkies! May the Force Be with You!"
Super cringe, right?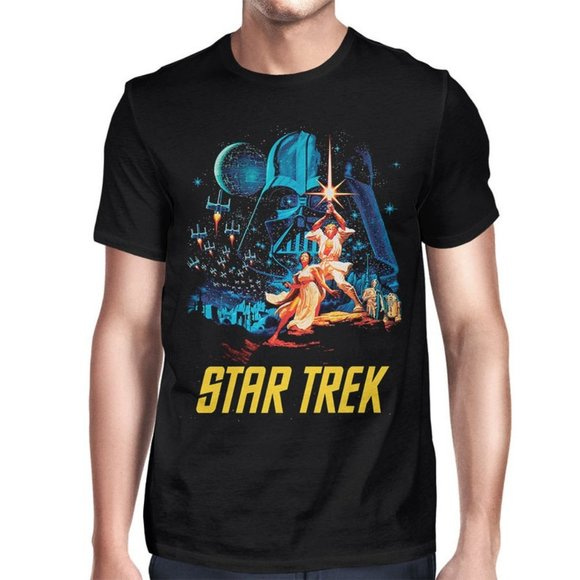 No. Just no.*
In science fiction and fantasy writing, so much attention is given to "world building." Yes, world building addresses big questions, like is there such a thing as magic? Are there other sentient races? What gods do they worship?
But even moreso, world building means creating a world of details. Of smells and colors and slang terms—even how one shakes hands or says "good morning."
To create a world, you have to get the details right. You have to get the continuity right. Because if you want people to invest themselves in the details of the world you've written—it's a good idea to show that you've invested yourself, as well.
BTW, here's a cool video explaining clips and magazines.
Back to Star Trek.
During the run of the original Star Trek, there was a very famous pediatrician by the name of Dr. Benjamin Spock who wrote some very popular books on childcare. Dr Spock became a regular on the talk shows of the day.
And you could almost feel the cringe whenever someone said their favorite character on Star Trek was "Dr. Spock."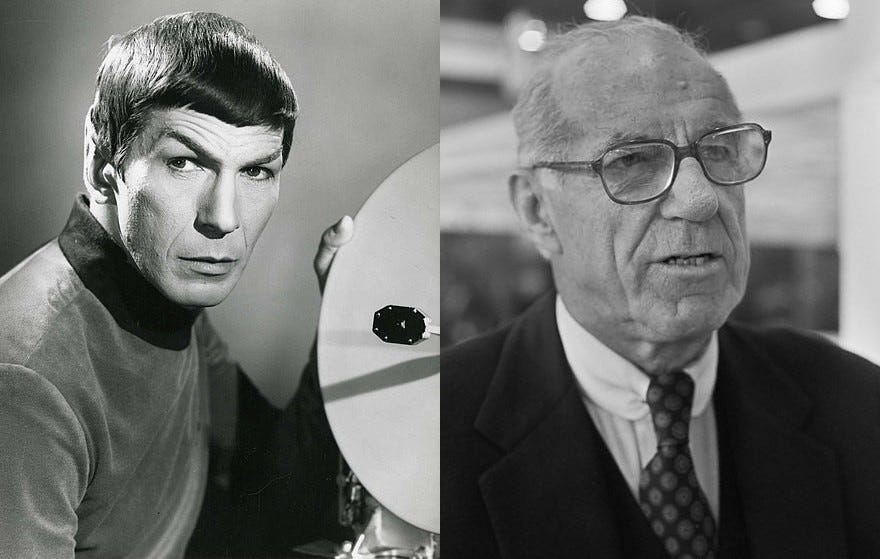 Know your Spock! Mr. Spock (L) and Dr. Spock (R)**
"Mr. Spock, Dr. Spock—what's the big deal?" that person might say.
But from after hearing that, no one else in the room would take them seriously. Or even civilly.
Fair or unfair, details matter.
When discussing the overall Star Trek franchise, yes the Klingons and the Borg, but also tranya and raktajino. Yes dilithium crystals, but also plomeek soup. And yes, Captain Picard commanded the Enterprise D, and later the Enterprise E , but Captain Kirk's self-destruct code for the original Enterprise is "0-0-0-Destruct-0."
Because people care. People devote their lives to these shows. It is through the shows they make friends, find community, acceptance, love.
And so, "Mr. Spock, Dr. Spock" is a big deal.
And no one has a bloody lightsaber or uses the Force (kironide dosing be damned).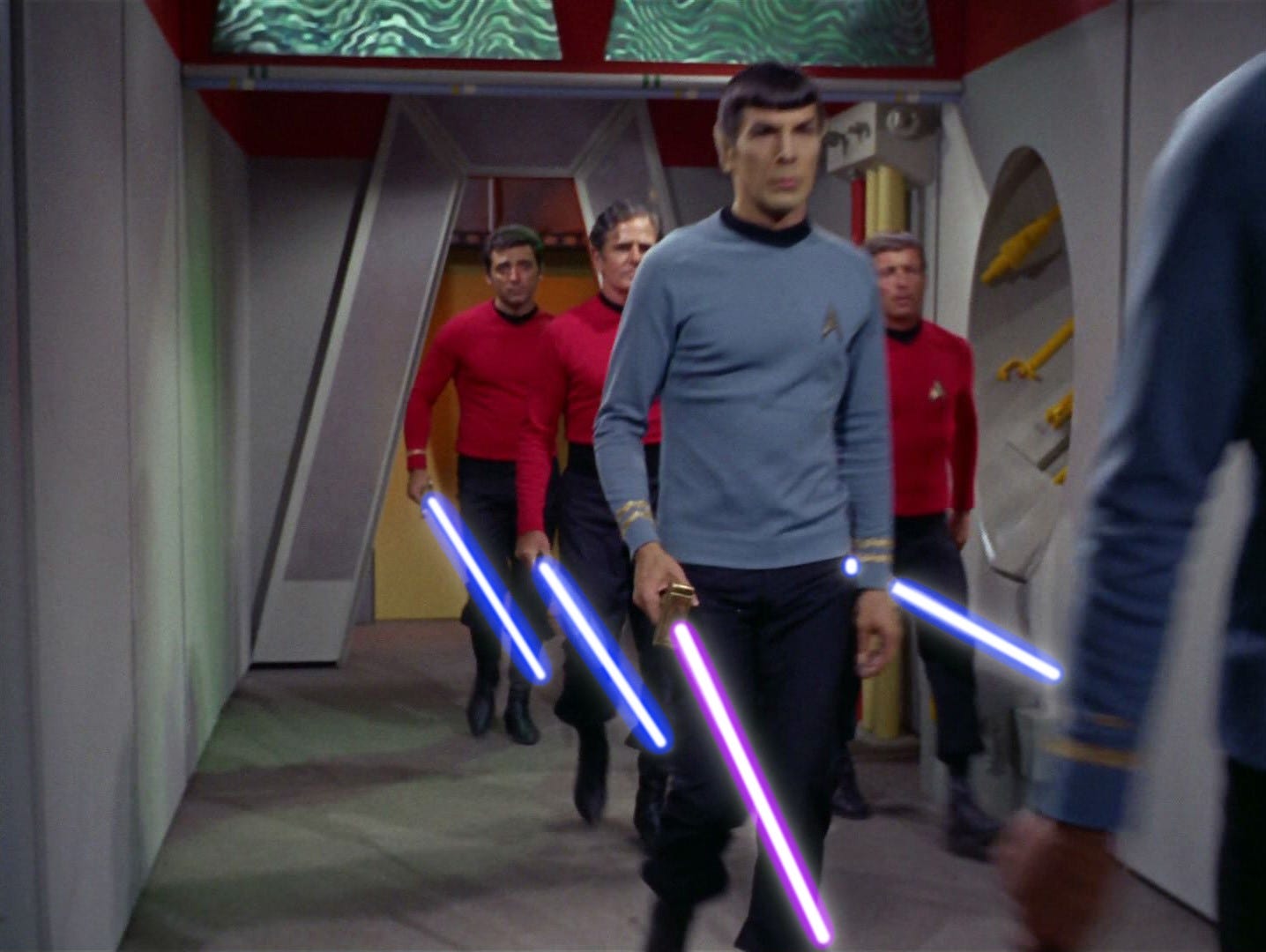 True fans know that pon farr is about to come when Dr. Spock pulls out his purple lightsaber and goes full Vapaad.***
In some ways, many aspects of the gun owning communities resemble those of fandom, as well. People devote their lives to designing or collecting or otherwise appreciating guns. Gun owners socialize around their interest, have their celebrities and discussion groups and fan sites.
There are rivalries between the AR-15 people and the AK-47 people that seem seem vaguely reminiscent of the Star Trek and Star Wars communities (in that order).
Just as with any fandom, the gun owning community is far more diverse than outsiders give it credit for—describing a "typical" gun owner is kind of pointless.
In fact, just as when one imagines a "typical science fiction fan," imagining a "typical gun owner" says more about one's own prejudices than it does about the community itself.
As with fandom, what gun owners share is a common interest, and that common interest produces a type of shared world-building, and a world that has its own continuity. Some of details are pretty esoteric, and that's not really the part to worry about—just as if you're not a science fiction person, nobody is going to care that you don't know the name of Dax's forgotten host.
But just as the character's name was "Mr. Spock," an AK-47 is an "AK-47." The "A" is for "automatic (Avtomat)" and the "K" stands for the Russian gun designer Mikhail Kalashnikov.
Also, the "AR" in "AR-15" does not stand for "Assault Rifle," but for "ArmaLite," its creator.
These terms are non-negotiable. If one wants to talk about guns with gun owners, that means respecting the world building—and the world—of that community. Thus, a magazine is not a "clip," regardless of how tacticool you might think the word sounds.
A 12-gauge shotgun has a barrel with a diameter that can fit a lead ball made of one-twelfth of a pound of lead. A "Tommy gun" (the one Spock is in the photo at the top) is a Thompson submachine gun. A submachine gun is lightweight and uses ammunition that was originally designed for handguns.
Note that none of this requires any special knowledge or years of training. A quick trip to Google or YouTube can save someone from having a "Dr. Spock" moment, and at least show some effort to research the subject.
As writer, I wonder why more people don't research their subjects more thoroughly. At the very least it keeps you from getting the rhetorical door slammed in your face. And what's wrong with learning something new?
I wonder if we sometimes worry too much that learning about a community might attach us to that community. A straight person learning about queer stories might feel afraid they might appear queer—or even become queer, for example.
Perhaps, after reading this, some readers might even wonder if I am advocating for gun owners right now.
But all that I am advocating for is respecting gun owners.
And does it really hurt to learn what a clip really is, or who created the AR-15?
Because if you want to talk to gun owners about guns, you are stepping into their world. And you'll most likely get farther in a discussion if you can show some respect for their community—no matter what your actual opinions on guns and gun ownership are.
In fact, going forward without doing so seems like a fool's errand.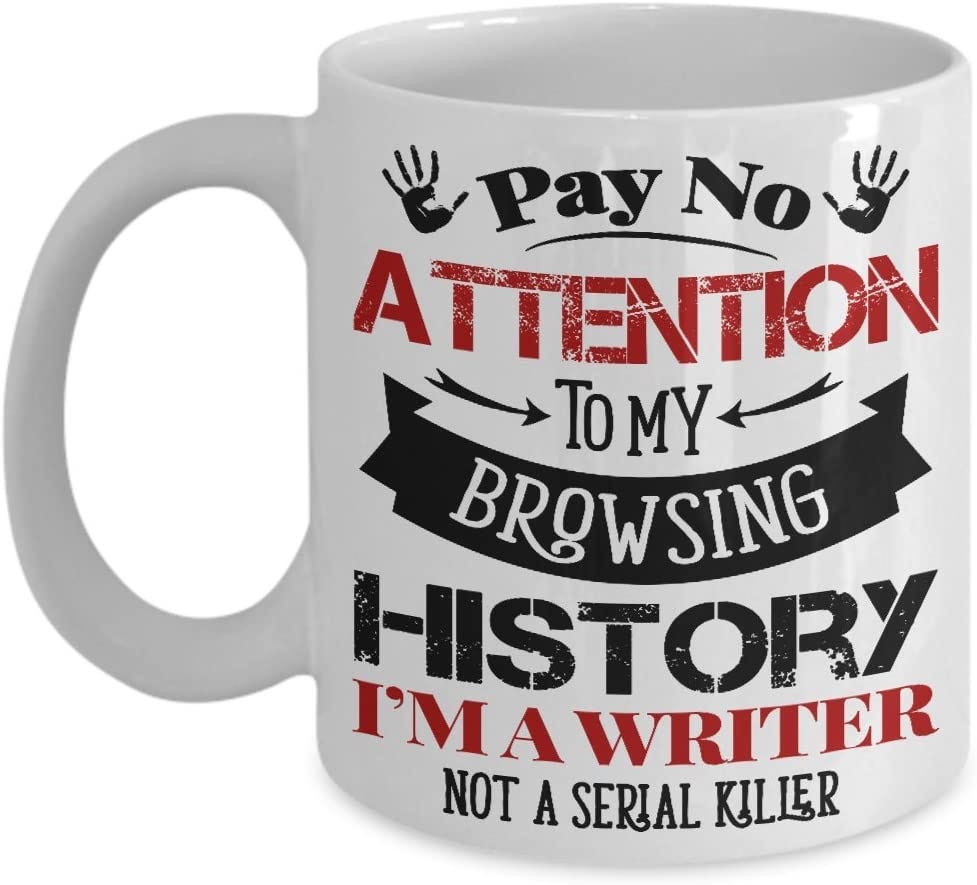 I think I am going to buy this mug****
As writers, research makes up so much of what we do. However, although I attended an entire presentation on bullet entrance and exit wounds, that does not make me a killer. And yes, to write Light From Uncommon Stars, I visited violin shops, read books on lutherie, and learned to play basic violin. But (trust me) I am in no way an accomplished violinist.
And, I am not a gun owner, nor at the moment would I feel comfortable writing an essay or poetry collection or novel about gun ownership. In this article, I probably made some errors, and if I did, I truly apologize.
But if I did decide to write my opinions on gun ownership and regulation—either in an article or essay, or in the pages of a novel—you can be sure that I would educate myself before I started. Because learning the words, the details, the basics of a community—that is how we demonstrate at least some care and respect, which essential for anyone who wants to navigate and negotiate someone else's world.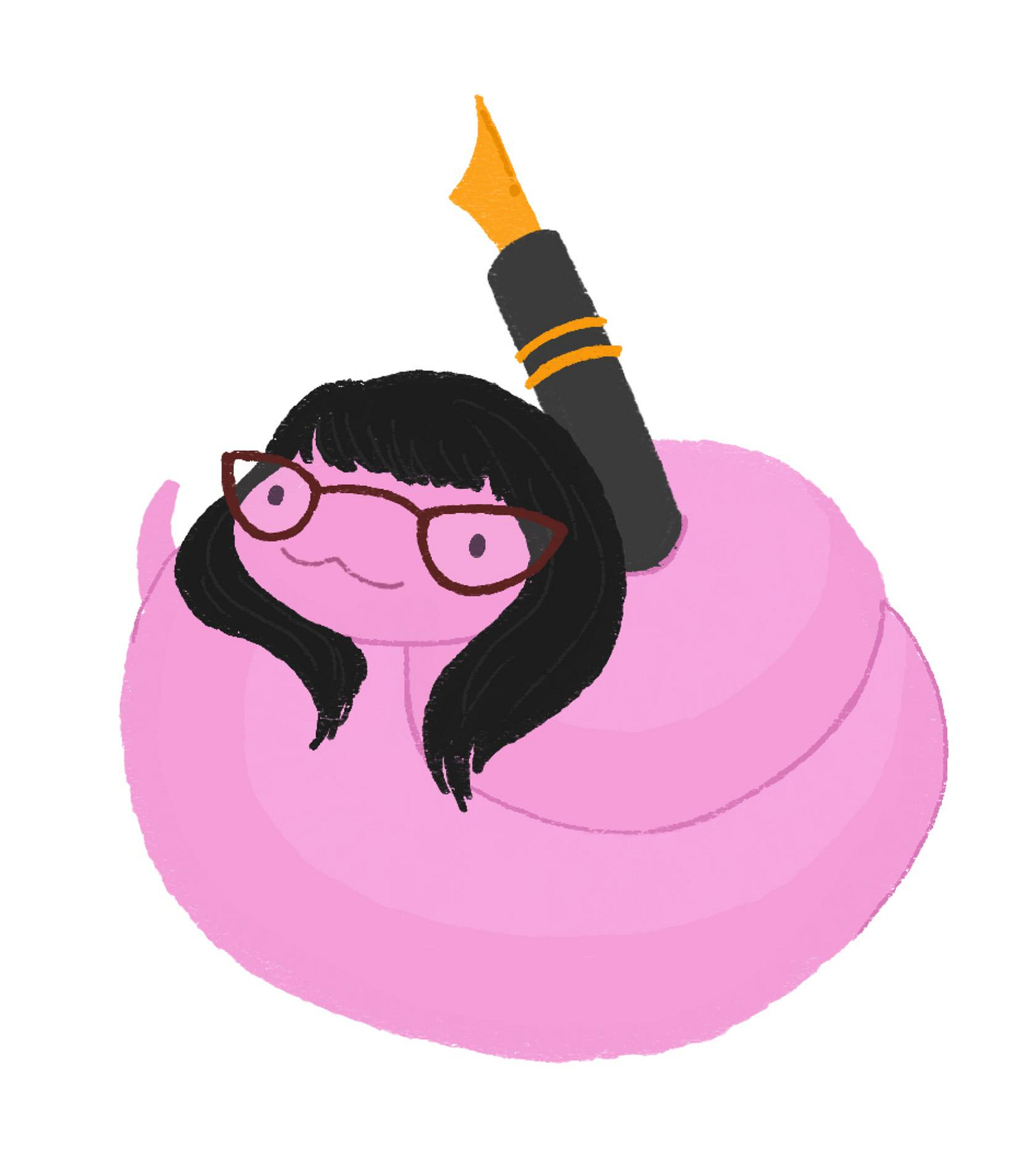 Thank you so much! Please subscribe! :)
--
COVER: CBS Paramount Television and/or Paramount Pictures. Its use is contended to be consistent with fair use rules under United States copyright law.
* This charming creation comes from Elbert's Closet! https://poshmark.com/closet/elbertfranklin5
**Mr. Spock:NBC Television, Public domain, via Wikimedia Commons/Dr. Spock: Bert Verhoeff / Anefo, CC0, via Wikimedia Commons
***https://www.trekbbs.com/threads/day-of-the-dove-but-the-swords-are-lightsabers.297525/ all credit for this amazing mashup to Acenos.
**** Lovely mug available from https://www.amazon.com/Attention-Browsing-History-Writer-Serial/dp/B06XHZ8NG5